Photo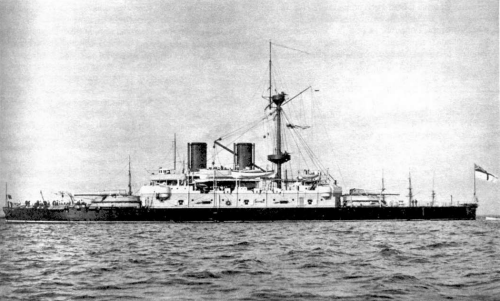 Camperdown
Ships
| Name | No | Yard No | Builder | Laid down | Launched | Comp | Fate | Modification |
| --- | --- | --- | --- | --- | --- | --- | --- | --- |
| Rodney |   |   | Chatham DYd | 6.2.1882 | 8.10.1884 | 6.1888 | sold for BU 6.1909 | 1st group |
| Howe |   | 208 | Pembroke DYd | 7.6.1882 | 28.4.1885 | 8.1889 | sold for BU 11.1910 | 1st group |
| Camperdown |   |   | Portsmouth DYd | 18.12.1882 | 24.11.1885 | 8.1889 | submarine depot ship 10.1908 | 2nd group |
| Anson |   | 210 | Pembroke DYd | 24.4.1883 | 17.2.1886 | 5.1889 | sold for BU 7.1909 | 2nd group |
Technical data
Displacement normal, t

Rodney, Howe: 10300

Anson, Camperdown: 10600

Displacement full, t
 
Length, m

Rodney, Howe: 99.1 pp

Anson, Camperdwon: 100.6 pp

Breadth, m

Rodney, Howe: 20.7

Anson, Camperdown: 20.9

Draught, m

8.48

No of shafts

2

Machinery

2 3-cyl IVC, 12 cylindrical boilers

Power, h. p.

11500

Max speed, kts

Rodney, Howe: 17

Anson, Camperdown: 17.4

Fuel, t

coal 1200

Endurance, nm(kts)

Rodney, Howe: 7200(10)

Anson, Camperdown: 7100(10)

Armour, mm

Rodney, Howe: compound; belt: 457 - 203 with 178mm wood backing, bulkheads: 406 - 178, barbettes: 292 - 254, decks: 76 - 64, CT: 305 - 51

Anson, Camperdown: compound; belt: 457 - 203 with 178mm wood backing, bulkheads: 406 - 178, barbettes: 356 - 305, decks: 76 - 64, CT: 305 - 51

Armament

2 x 2 - 343/30 BL Mk I/II/III/IV, 6 x 1 - 152/26 BL Mk IV/VI, 12 x 1 - 57/40 6pdr Hotchkiss Mk I, 10 x 1 - 47/40 3pdr Hotchkiss Mk I, 5 - 356 TT (1 bow, 4 beam)

Complement

530
Graphics
Project history
Repeats of Collingwood with 343mm 67t guns instead of 305mm 45t. Howe and Rodeny were 800t heavier than the prototype, drawing 0.5m more, which increased the immersion of the belt armour. So Anson and Camperdown were further modified to include heavier barbette armour, a 3m longer belt and increased length and beam to maintain draught and prevent any further immersion of the belt. The machinery power was increased to keep maximal speed. Ships made 16kts with 7500hp with natural draught and 16.9 - 17.4kts with forced draught.

Completion of ships was late because of delays in guns production.
Ship protection
Ships had fixed, pear-shaped barbettes 15.3m long and 13.7m wide, each having 292mm (first pair) or 356mm (second pair) sloping sides, 254mm (first pair) or 305mm (second pair) rear and 76mm floor giving protection to turntable, crew, training and loading gear. The top of the barbette was covered with bullet-proof plating. A trunk of 305-254mm thickness, between the rear of the barbette and the top of the citadel, protected the ammunition supply. On account of weight considerations, and because the citadel was reduced to 457mm belt, 45.8m long by 2.3m deep, closed at the ends by 406mm bulkheads and covered by 76mm deck. The belt extended to 1.5m below the waterline and tapered over the lower 1.1m to 203mm at the lower edge, bulkheads being 178mm at the lower edge. The lower deck was 64mm thick outside the citadel, the area between this and main deck being extensively subdivided and employed for coal bunkers and stores. The coal stowage inside and outside the citadel was arranged to provide additional protection, but cork compartments were not included, although the ship was fitted with anti-rolling tanks. 152mm guns were unprotected except for splinter plating and 152mm armour screens at the ends of the superstructure as a defence against raking fire.
Modernizations
1896-1897, all: - 6 x 1 - 152/26; + 6 x 1 - 152/27 QFC Mk I/IV / I/VI / II/IV / II/VI / III/IV / III/VI

1896-1897, Howe, Anson, Camperdown: a tall signal mast was fitted between the forefunnel and bridge.
Naval service
Howe ran aground on Ferrol Rock 2.11.1892 and sunk, she was salvaged in 1893 and repaired. 22.6.1893 Camperdown accidentally rammed and sank Victoria, and herself came close to capsizing on account of the subsequent flooding of the forward compartments.

Camperdown was removed from Effective List in 1908 and stationed as submarine depot ship, she was sold for BU 11.7.1911. Howe was in reserve since 1908 until sold 10.11.1910. Rodney was in Chatham Special Reserve from July 1906 until sold 16.6.1909.

Thanks to Wolfgang Stöhr for additional information on this page.