Photo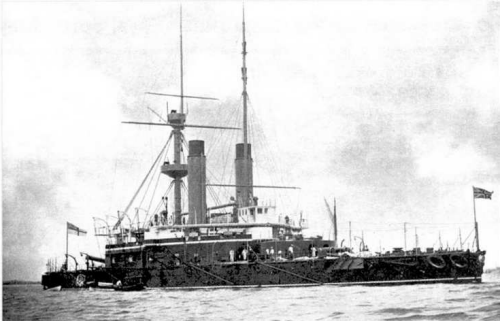 Nile as completed
Ships
| Name | No | Yard No | Builder | Laid down | Launched | Comp | Fate |
| --- | --- | --- | --- | --- | --- | --- | --- |
| Trafalgar |   |   | Portsmouth DYd | 18.1.1886 | 20.9.1887 | 4.1890 | gunnery drill ship 1907 - 1909, sold for BU 9.3.1911 |
| Nile |   | 213 | Pembroke DYd | 8.4.1886 | 27.3.1888 | 10.7.1891 | sold for BU 7.1912 |
Technical data
Displacement normal, t

12590

Displacement full, t
 
Length, m

105.2 pp

Breadth, m

22.3

Draught, m

8.69

No of shafts

2

Machinery

2 3-cyl VTE, 6 cylindrical boilers

Power, h. p.

natural draught: 7500

forced draught: 12000

Max speed, kts

natural draught: 15

forced draught: 16.7

Fuel, t

coal 1200

Endurance, nm(kts)

6500(10)

Armour, mm

compound; belt: 508 - 356 with 254mm wood backing, bulkheads: 406 - 356, citadel: 457 - 406, turrets: 457, decks: 76, CT: 356

Armament

2 x 2 - 343/30 BL Mk I/II/III/IV, 6 x 1 - 120/40 QF Mk I/II/III/IV, 8 x 1 - 57/40 6pdr Hotchkiss Mk I, 9 x 1 - 47/40 3pdr Hotchkiss Mk I, 4 - 356 TT (1 bow, 1 aft, 2 beam)

Complement

577
Graphics
Project history
Provided under 1886 Estimates, these ships were designed to meet the demand for ships with substantially better protection than Victoria and 'Admiral' classes, and were the largest and best protected turret ships to date. They were modelled on Dreadnought but lacked a full length belt in favour of heavier armour amidships. The displacement was substantially increased over previous ships to accommodate a high level of protection. Ships were designed to carry 8 127mm BL guns as secondary, but received Armstrong 120mm QF guns shortly before completion. Trafalgar was completed with short funnels, which were raised by 5.2m in 1891 to improve natural draught to the boilers and Nile was completed with tall funnels.

Trafalgar was actually completed in 1889 and Nile in 1890, both ships being delayed by the late delivery of guns. As with previous low-freeboard ships, they were very wet and unable to maintain high speed at sea: the best sea speed was 13-14kts in moderate conditions.
Ship protection
The belt, between the lower and main decks, was 70.2m long by 2.6m deep, 0.9m being above the waterline, 508mm thick amidships reducing to 457mm fore and aft, 356mm at the ends, and closed by 406mm forward and 356mm aft bulkheads. The citadel, between the main and upper decks, was 43.0m long at the side and 58.9m long on the centreline, and was 406mm thick amidships increasing to 457mm around turret bases. Decks over the citadel and fore and aft of the belt were 76mm. The secondary battery in the superstructure was protected by 102mm sides and 127mm end bulkheads, as defence against QF guns, the bulkheads being added during construction.
Modernizations
1891, Trafalgar: funnels were raised

1896, both: - 6 x 1 - 120/40; + 6 x 1 - 152/40 QF Mk I/II
Naval service
Trafalgar since 1898 was in reserve and served as a gunnery and torpedo drillship at Sheerness in 1907-1909, later she had active career until sold. Nile was since 1898 in reserve with nucleus crew but in 1911returned to active service.

Many thanks to Wolfgang Stöhr for additional information on this page.