NAVYPEDIA Support the project with paypal
Photo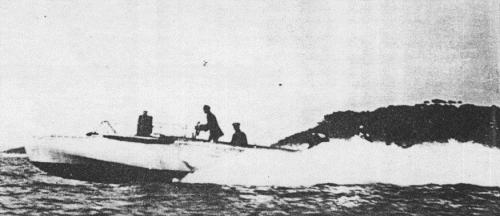 G.I 1918
Ships
| Names | Builders | Commissioned | Losses | Transfers | Discarding |
| --- | --- | --- | --- | --- | --- |
| G.I - VI | Marinearsenal Pola: G.I - VI | 9-10/1918: G.I, II | BU incomplete: G.III - VI | Italy, 1920: G.I, II | none |
Technical data
| | |
| --- | --- |
| Displacement normal, t | 6.2 |
| Displacement full, t | 6.7 |
| Length, m | 13.5 |
| Breadth, m | 2.90 |
| Draught, m | 0.44 |
| No of shafts | 4 |
| Machinery | 4 Rapp aero-engines |
| Power, h. p. | 600 |
| Max speed, kts | 33.8 |
| Fuel, t | petrol |
| Endurance, nm(kts) | 200(20) |
| Armament | 4 x 1 - 8.80, 4 DC |
| Complement | 5 |
Standard scale images

G.I 1918
Graphics
Project history
In January 1917 the naval architect Max Szombathy, who had already participated in the design of Müller's hovercraft, presented the design of a 4-shaft hydroplane in both a torpedo-boat and gunboat configuration. On 2 February the Naval Section ordered two trials units to be built, after the supply of obsolete 150bhp aircraft engines was cleared. No I was to be built in the gunboat configuration with 1 66/16 gun, 2 MGs and 4 DCs, No II as a torpedo-boat with one 356mm torpedo and 4 MGs. One year later No I was 95% ready, but Wo II was only 30% complete. The slow progress in construction was caused by the acute shortage of manpower, as every hand was needed for repairs to the fighting units.

On 15 April 1918 No I was launched, and on 11 May a first trials run was held; a second trial held on 13 June was cut short when four clutches broke down. Further trials in June 1918 achieved speeds of 33.6kts-33.8kts. On 7 September 1918, the boat was handed over to the submarine chaser flotilla, her armament consisting of 4 DCs and 4 MG; her 66mm gun had not been installed. Boat No II was probably launched in September 1918, but was completed only at the end of war. Four further boats. No III-No VI, of this 6t Szombathy type were in the early stages of construction at the end of the war.
Modernizations
None.
Naval service
All boats fell into Italian hands after the war, and their fate is unknown.
© 2007-2022 - navypedia.org