Photo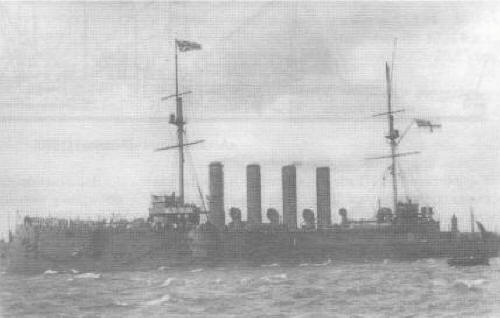 Spartiate
Ships
| Name | No | Yard No | Builder | Laid down | Launched | Comp | Fate |
| --- | --- | --- | --- | --- | --- | --- | --- |
| Diadem | P20, N50, N32 | 390 | Fairfield, Govan | 23.1.1896 | 21.10.1896 | 19.7.1898 | TS 1914, harbour TS 1.1918 |
| Niobe (9/1910- RCN) |   | 248 | Vickers, Barrow | 16.12.1895 | 20.2.1897 | 6.12.1898 | depot ship 10.1915 |
| Europa | P06, P91 | 293 | Thompson, Clydebank | 10.1.1896 | 20.3.1897 | 23.11.1899 | sold 9.1920 |
| Andromeda |   | 232 | Pembroke DYd | 2.12.1895 | 30.4.1897 | 5.9.1899 | harbour TS 9.1913 |
| Amphitrite | D52, P7C | 258 | Vickers, Barrow | 8.12.1896 | 5.1.1898 | 17.9.1901 | TS 3.1910-8/1914, minelayer 8.1917, sold 4.1920 |
| Argonaut | P78, P04 | 398 | Fairfield, Govan | 23.11.1896 | 24.1.1898 | 19.4.1900 | hospital ship 10.1915 |
| Ariadne | P69 | 303 | Thompson, Clydebank | 29.10.1896 | 22.4.1898 | 5.6.1902 | sunk 26.7.1917 |
| Spartiate |   | 233 | Pembroke DYd | 10.5.1897 | 27.10.1898 | 17.3.1903 | harbour TS 1913 |
Technical data
Displacement normal, t

11000

Displacement full, t

 

Length, m

132.6 pp 141.0 oa

Breadth, m

21.0

Draught, m

7.77

No of shafts

2

Machinery

2 4-cyl VTE, 30 Belleville boilers

Power, h. p.

Diadem, Niobe, Europa, Andromeda: 16500

Amphitrite, Argonaut, Ariadne, Spartiate: 18000

Max speed, kts

Diadem, Biobe, Europa, Andromeda: 20.2

Amphitrite, Argonaut, Ariadne, Spartiate: 20.7

Fuel, t

coal 1900

Endurance, nm(kts)

10000(10)

Armour, mm
Harvey steel; deck: 102 - 64, gun shields: 114 - 51, casemates: 114 - 51, ammunition hoists: 51, CT: 305
Armament

16 x 1 - 152/40 QF Mk I/II, 14 x 1 - 76/40 12pdr 12cwt QF Mk I, 3 x 1 - 47/40 3pdr Hotchkiss Mk I, 3 - 450 TT (1 aw stern, 2 sub beam)

Complement

677
Standard scale images

Ariadne 1912
Graphics
Project history
These ships were reduced editions of the Powerful class, with a lower speed and a thinner protective deck which saved 3000t displacement and about £100,000 per ship in cost. Andromeda, Diadem, Europa and Niobe were provided under the 1895/96 Estimates and the others under the 1896/97 Estimates. The second group were provided with machinery of higher power for a 0.5kt increase in speed and could be distinguished from the earlier group by the addition of a low wall around the quarterdeck 152mm guns and a bulwark around the after superstructure. All exceeded their designed power and averaged 20.5kts (1st group) and 21kts (2nd group) on full power trials. The completion of Spartiate was delayed by the late arrival of her machinery from the contractors. In general they were good steamers but Niobe suffered from several machinery breakdowns in her early years and boiler problems arose in some ships after a couple of years' service. The guns were disposed as in the Powerful except that four single 152mm on shielded mountings were substituted for the 234mm turrets on the forecastle and quarterdeck. They were heavily criticised for their lack of heavy guns and the fact that the guns with the best command were only protected by shields. In other respects they were of similar layout to the Powerful class except that the forecastle deck terminated at the after superstructure.
Ship protection
The protective deck was 102mm thick over the machinery, thinning to 51mm over a narrow section of the crown and reducing to 64mm forward and aft. 12 152mm guns in casemates were protected by 114-51mm armour, four deck guns were protected by 114-51mm shields. Ammunition hoists were protected by 51mm armoured tubes down to the protective deck.
Modernizations 3.
1917, Ariadne: was armed only with 4 x 1 - 152/40 QF Mk I/II, 1 x 1 - 76/45 20cwt QF Mk I, 400 mines

8/1917, Amphitrite: was armed only with 4 x 1 - 152/40 QF Mk I/II, 1 x 1 - 76/45 20cwt QF Mk I, 354 mines
Naval service
Amphitrite in March 1910 was attached to HMS Vivid as Stokers` TS, recommissioned in August 1914. She was converted to minelayer, commissioned in August 1917. Amphitrite collided with destroyer Nessus in September 1918 and paid off in June 1919. Andromeda served since September 1913 as Boys` TS at Devonport, renamed Impregnable II in November 1919, paid off in March 1929, became part of Torpedo School in March 1931 and renamed Defiance and survived until 1956. Argonaut was used as hospital ship in 10.1915-1917, accommodation ship for stokers in 1918 and sold in 1920. Ariadne was reduced to Stokers` TS in 1913-1914, converted to minelayer in 1916-1917 and torpedoed and sunk by German submarine UC65 off Beachy Head 26.7.1917. Diadem served as Stokers` TS from 1914, closed from October 1915 to January 1918 but the re-opened, put for sale in January 1921. Europa was bought by G. F. Bletto for conversion to an emigrant carrier, but sank in a gale off Corsica in January 1921. Niobe was sold to Canadian Government 6.9.1910 and arrived Halifax 22.10.1910. She ran aground on Cape Sable 29.7.1911 but was raised and repaired. In October 1915 she was disarmed as depot ship, badly damaged by the ammunition explosion in Halifax Narrows 6.12.1917 but continued service until sold in 1922. Spartiate became Stokers` TS in 1913, renamed Fisgard in June 1915 and sold for sale in January 1932.

Many thanks to Wolfgang Stöhr for additional information on this page.