Photo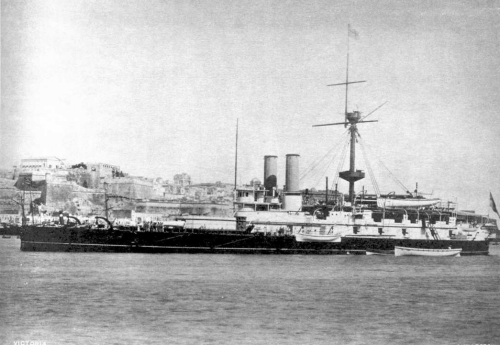 Victoria as completed
Ships
| Name | No | Yard No | Builder | Laid down | Launched | Comp | Fate |
| --- | --- | --- | --- | --- | --- | --- | --- |
| Victoria (ex-Renown) |   | 490 | Armstrong, Elswick | 23.4.1885 | 9.4.1887 | 3.1890 | collision 22.6.1893 |
| Sans Pareil |   | 58h | Thames Iron Wks, Blackwall | 21.4.1885 | 9.5.1887 | 8.7.1891 | sold to BU 4.1907 |
Technical data
Displacement normal, t

10470

Displacement full, t
 
Length, m

103.6 pp 110.6 oa

Breadth, m

21.3

Draught, m

8.15

No of shafts

2

Machinery

2 3-cyl VTE, 8 cylindrical boilers

Power, h. p.

Victoria: 14240

Sans Pareil: 14482

Max speed, kts

Victoria: 17.3

Sans Pareil: 17.7

Fuel, t

coal 1200

Endurance, nm(kts)

7000(10)

Armour, mm

compound; belt: 457 - 406 with 178mm wood backing, bulkheads: 406, turret: 432, redoubt:: 457, battery: 152 - 76, decks: 76, CT: 356 - 51

Armament

1 x 2 - 413/30 BL Mk I, 1 x 1 - 254/32 BL Mk II, 12 x 1 - 152/26 BL Mk IV/VI, 12 x 1 - 57/40 6pdr Hotchkiss Mk I, 9 x 1 - 47/40 3pdr Hotchkiss Mk I, 4 - 356 TT (1 bow, 1 aft, 2 beam), 2 - 356 TC

Complement

430

as flagship: 550
Graphics
Project history
'Admiral' class ships were severely criticized by sea officers and the public as being insufficiently protected, and therefore, in the Victoria class, a reversion was made to the turret ship. The 'Admirals' were in fact comparatively well protected and although the turret system gave better defence to the main armament the hull protection in later ships showed no great improvement. The Victoria design was basically an improved Hero, with size increased to meet the requirements of a first class ship, the concentration of the main armament in a twin turret fwd being more economic on weight than single guns mounted fore and aft. As in Benbow adoption of 413mm Armstrong guns was due mainly to the limited supply of 343mm guns.

Victoria became the first battleship with triple expansion engines. The boilers were arranged in 4 independent compartments, two on each side, and, for the first time in a British ship, two funnels were fitted side by side. Boiler working pressure was 9.7kgf/cm2 instead of 6.4kgf/cm2 in the 'Admirals'. Victoria was completed with short funnels but these raised by 5.2m in 1890 to improve natural draught to the boilers. Sans Pareil was completed with tall funnels. Both were good steamers and substantially exceeded their designed engine power. Both ships were delayed by the late delivery of their main armament. Slightly better seaboats than the 'Admirals', they were steady and better able to keep speed in a seaway, but their low freeboard made them wet forward which seriously affected the efficiency of the forecastle turret.
Ship protection
The citadel was similar to that in the 'Admirals' but larger, being 49.4m long and 2.6m deep. The main deck over the citadel and the lower deck fore and aft of the citadel were 76mm thick. The turret base was protected by a pear-shaped redoubt which extended down to the forward end of the citadel. The secondary battery was divided into two groups by an athwartships 76mm bulkhead and was protected against raking fire by 152mm screen bulkheads at the forward and after ends. 254mm gun was unprotected.
Modernizations
1890, Victoria: funnels were raised

1896-1897, Sans Pareil: - 12 x 1 - 152/26; + 12 x 1 - 152/27 QFC Mk I/IV / I/VI / II/IV / II/VI / III/IV / III/VI
Naval service
Victoria 22.6.1893, while serving as flagship of the Mediterranean Fleet, was lost during manoeuvres off Tripoli as a result of a collision with battleship Camperdown. Sans Pareil was in Fleet Reserve since 1906.

Many thanks to Wolfgang Stöhr and Borys Estrin for additional information on this page.