Photo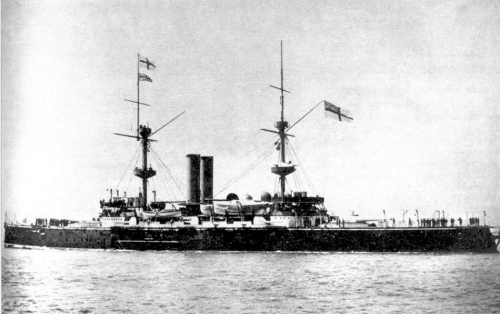 Royal Sovereign
Ships
| Name | No | Yard No | Builder | Laid down | Launched | Comp | Fate |
| --- | --- | --- | --- | --- | --- | --- | --- |
| Royal Sovereign |   |   | Portsmouth DYd | 30.9.1889 | 26.2.1891 | 5.1892 | sold for BU 10.1913 |
| Empress of India (ex-Renown) |   | 225 | Pembroke DYd | 9.7.1889 | 7.5.1891 | 8.1893 | sunk as target 4.11.1913 |
| Repulse |   | 226 | Pembroke DYd | 1.1.1890 | 27.2.1892 | 4.1894 | sold for BU 7.1911 |
| Ramillies |   | 253 | Thomson, Clydebank | 11.8.1890 | 1.3.1892 | 10.1893 | sold for BU 10.1913 |
| Resolution |   | 655 | Palmer, Jarrow | 14.6.1890 | 28.5.1892 | 11.1893 | sold for BU 4.1914 |
| Revenge, 8.1915- Redoutable | P.55, N.12, N.84 | 656 | Palmer, Jarrow | 12.2.1891 | 3.11.1892 | 3.1894 | gunnery TS 9.1906 - 4.1913, bombarding ship 10.1914, sold for BU 11.1919 |
| Royal Oak |   | 579 | Laird, Birkenhead | 29.5.1890 | 5.11.1892 | 6.1894 | sold for BU 1.1914 |
Technical data
Displacement normal, t

14150

Displacement full, t
15580
Length, m

115.8 pp 125.0 oa

Breadth, m

22.9

Draught, m

8.38

No of shafts

2

Machinery

2 3-cyl VTE, 8 cylindrical boilers

Power, h. p.

natural draught: 9000

forced draught: 11000

Max speed, kts

natural draught: 15.5

forced draught: 16.5

Fuel, t

coal 1450

Endurance, nm(kts)

7900(10)

Armour, mm

compound; belt: 457 - 356, bulkheads: 406 - 356, upper belt (nickel steel): 102 - 76, barbettes: 432 - 279, casemates: 152, decks: 76 - 64, CT: 356

Armament

2 x 2 - 343/30 BL Mk III/IV, 10 x 1 - 152/40 QF Mk I/II, 16 x 1 - 57/40 6pdr Hotchkiss Mk I, 12 x 1 - 47/40 3pdr Hotchkiss Mk I, 7 - 450 TT (1 bow, 6 beam)

Complement

712
Graphics
Project history
Provided under the Naval Defence Act of 1889, the Royal Sovereign class represented the beginning of a fifteen year period of stability in British battleship design, and were the first class of what were to become known as pre-dreadnoughts. Prior to deciding upon the design of the new ships the Admiralty, largerly under the influence of the new DNS Sir William White, made a detailed study of various turret and barbette ship designs, and of existing British and foreign ships. One of the main results was the decision that if these ships were to be given adequate seakeeping qualities, a higher freeboard than that of existing designs would be required. Top-weight considerations ruled out the turret system in a high freeboard ship and the design decided upon was virtually an extended and much improved version of the 'Admiral' class barbette ships, whose general layout and distribution of armament was considered to be the best arrangement for the new ships. The main improvements on the 'Admiral' class design were the raising of the freeboard to 5.5m by the addition of another full length deck, barbettes with vertical armour walls extending down to the citadel thus avoiding the danger of shells detonating under the barbette, the addition of an upper belt as protection against QF guns. To these could be added a heavier secondary armament and a higher speed, but in these cases the improvement was largely a result of technical progress. There was of course a penalty in that new ships were 4000t larger than the 'Admirals'.

The secondary armament was disposed on two decks to give a wide distribution and to minimize the effect of a single hit. Four of 152mm guns were mounted on the main deck in casemates, the remainder on the upper deck with splinter shields only. The main faults with this system were that the casemates were too close to the waterline, a common fault in the majority of pre-dreadnoughts, and that the shielded mounts were too vulnerable.

On trials all ships of class exceeded designed power and speed and made 17.2-18.3kts under forced draught. Ships of class were designed for a long, steady roll to provide good gun platforms, but when first completed they were inclined to roll too heavily under certain conditions. This was corrected by addition of bilge keels, and they subsequently proved to be excellent seaboats quite capable, owing to their high freeboard, of maintaining high speeds in a seaway.
Ship protection
The belt was 76.9m long by 2.6m deep, 1.5m being below the waterline, and was 457mm thick amidships reducing to 406mm and 356mm forward and aft. It was closed by 406mm fwd and 356mm aft bulkheads and covered by a 76mm middle deck, the lower deck fwd and aft of the belt was 64mm, and the upper belt between main and middle decks was of 102mm nickel steel armour, with 76mm nickel steel bulkheads at the ends. These were the first British ships in which this type of armour was used. The barbettes, protecting gun mountings, machinery and loading gear, were pear-shaped, with 457mm armour on the major diameter and 406mm on the minor one, reducing to 279mm behind the upper belt. The arcas behind the main and upper belts were employed as coal bunkers for additional protection.
Modernizations
1902-1904, all: 6 152mm guns on the upper deck were protected by 127mm Krupp steel armour casemates instead of shields.

1912, Revenge: main guns were relined, - 2 x 2 - 343/30; + 2 x 2 - 254/40 BL Mk III/IV

1913, Revenge: main guns were relined, - 2 x 2 - 254/40; + 2 x 2 - 305/34 BL Mk III/IV

1915, Redoutable: was fitted with bulges and received an early form of minesweeping gear on bow; - 4 x 1 - 152/40, 16 x 1 - 57/40, 12 x 1 - 47/40, 7 - 450 TT; + 12 x 1 - 76/40 12pdr 12cwt QF Mk I/II (HA)
Naval service
In 1911-1913 six ships were paid off. Revenge replaced Colossus as gunnery TS at Portsmouth in September 1906. In 1912 she was seriously damaged by collision. In April 1913 she was reduced to Material Reserve and towed to the Motherbank, but in October 1914 she was brought back into service to bombard German positions on Belgian coast. She was renamed Redoutable 2.8.1915 to free the name for new ship. Redoutable was paid off in October 1915 when sufficient monitors were available. Subsequently she was recommissioned as tender to HMS Victory in 1918-1919.