Photo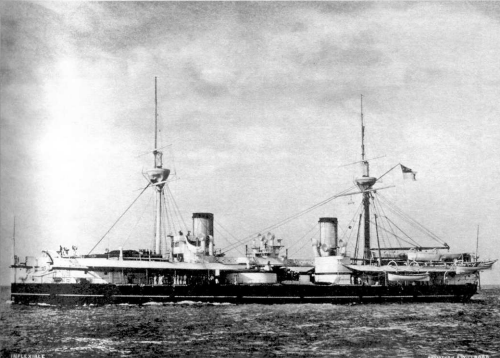 Inflexible after rig reducing
Ships
| Name | No | Yard No | Builder | Laid down | Launched | Comp | Fate |
| --- | --- | --- | --- | --- | --- | --- | --- |
| Inflexible |   |   | Portsmouth DYd | 24.2.1874 | 27.4.1876 | 18.10.1881 | sold for BU 9.1903 |
Technical data
| | |
| --- | --- |
| Displacement normal, t | 11880 |
| Displacement full, t |   |
| Length, m | 97.5 pp 104.9 oa |
| Breadth, m | 22.9 |
| Draught, m | 7.77 |
| No of shafts | 2 |
| Machinery | sails + 2 3-cyl IVC, 12 cylindrical boilers |
| Power, h. p. | 8488 |
| Max speed, kts | 14.7 |
| Fuel, t | coal 1300 |
| Endurance, nm(kts) | 5200(10) |
| Armour, mm | iron; belt: 610 - 406 with 457mm wood backing, bulkheads: 559 - 356, turrets: 432 - 406 (compound), decks: 76, CT: 305 |
| Armament | 2 x 2 - 406/18 MLR Mk I, 6 x 1 - 95/21 20pdr 16cwt BL, 2 - 356 TT (beam), 2 - 356 TC |
| Complement | 440 |
Graphics
Project history
British answer to the Italian Duilio, Inflexible was a ship of extremes with the heaviest ML guns in the Royal Navy and the thickest armour ever put afloat. In order to provide of the latter, 'all of nothing' protection was adopted with no armour beyond the central citadel. The citadel and the area below the protective deck required sufficient buoyancy to keep the ship afloat when ends were riddled. This necessitated a high level of stability and to avoid problems with rapid rolling Inflexible was fitted with anti-rolling tanks: athwartship chambers partly filled with water which tended to dampen roll. These were to prove successful in some weather conditions but not all. Extra protection to buoyancy was provided by extensive sub-division and cork filled and coal compartments fore and aft of the citadel on the lower and main decks.

406mm 80t guns were too long to be loaded from inside the turret so the job was tackled from beneath the armoured deck with the guns depressed into fixed armoured glacis. 750t hydraulically operated twin turrets were disposed en échelon at the corners of the citadel to provide fore and aft fire, but this arrangement restricted broadside fire. Also Inflexible was the first ship with submerged TT.

She was a good seaboat and manoeuvred well. Provided with a brig-rig, she carried 1720m2 of sails, for peacetime service only, which was intended for economy and training. She proved to be virtually useless so far as sail propulsion was concerned and in 1885 was converted to a military rig.
Ship protection
The citadel was33.6m long, extending 2.9m above and 2.0m below the waterline. The sides were in two thicknesses of iron each with wood backing, the outer thickness a uniform 305mm and the inner thickness 305mm at waterline, 203mm above and 102mm below, giving a total thickness of armour and backing of 1041mm! Bulkheads at the ends of citadel had similar construction. The upper deck over citadel and the lower deck fore and aft of it were of 76mm thickness. The turrets were protected by sandwich armour, like the citadel, the outer layer being of compound armour with 89mm steel face and 114mm iron back, the inner layer of 178mm iron with 457mm teak backing. Inflexible was the first ship to carry compound armour.
Modernizations
1885: ship was converted to military rig with light yards and topmasts and fighting tops on the lower masts; - 6 x 1 - 95/21; + 8 x 1 - 102/27 BL Mk I/II/III/IV, 4 x 1 - 57/40 6pdr Hotchkiss Mk I, 2 x 1 - 47/40 3pdr Hotchkiss Mk I

1897: - 8 x 1 - 102/27; + 8 x 1 - 120/40 QF Mk I/II/III/IV
Naval service
No significant events.