Photo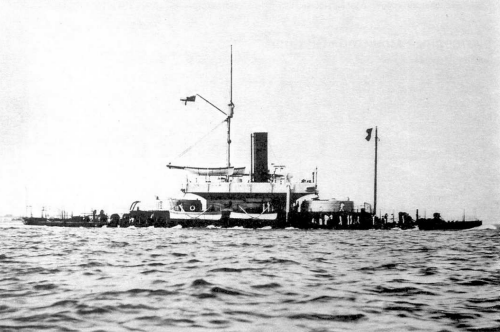 Cyclops
Ships
| Name | No | Yard No | Builder | Laid down | Launched | Comp | Fate |
| --- | --- | --- | --- | --- | --- | --- | --- |
| Cyclops |   |   | Thames Iron Wks, Blackwall | 10.9.1870 | 18.7.1871 | 4.5.1877 | sold to BU 7.1903 |
| Hecate |   |   | Dudgeon, Poplar | 5.9.1870 | 30.9.1871 | 24.5.1877 | sold to BU 5.1903 |
| Gorgon |   | 270 | Palmers, Jarrow | 5.9.1870 | 14.10.1871 | 19.3.1874 | sold to BU 5.1903 |
| Hydra |   | 136 | Elder, Govan | 5.9.1870 | 28.12.1871 | 31.5.1876 | sold to BU 7.1903 |
Technical data
Displacement normal, t

3480

Displacement full, t
 
Length, m

68.6 pp

Breadth, m

13.7

Draught, m

4.95

No of shafts

2

Machinery

Gorgon, Hecate: 2 2-cyl IHSE direct-acting, boilers

Hydra, Cyclops: 2 2-cyl IVC, boilers

Power, h. p.

Gorgon: 1670

Hydra: 1470

Cyclops: 1660

Hecate: 1755

Max speed, kts

Gorgon, Cyclops: 11

Hydra: 11.2

Hecate: 10.9

Fuel, t

Gorgon, Hecate: coal 270

Hydra, Cyclops: coal 250

Endurance, nm(kts)

Gorgon, Hecate: 1230(10)

Hydra, Cyclops: 1920(10)

Armour, mm

iron; belt: 203 - 152 with 279 - 229 mm wood backing, breastwork: 229 - 203, turrets: 254 - 229, decks: 38, CT: 229 - 203

Armament

2 x 2 - 254/15 MLR Mk I/II

Complement

150
Graphics
Project history
Repeats of Cerberus class coast defence ships with minor modifications, these ships were ordered during the war scare of 1870. They were delivered from the builders to Royal dockyards in 1872 for final fitting out and, as the war scare had subsided, were completed at a leisurely pace.
Ship protection
The hull was protected by 203mm belt reducing to 152mm at the ends, and the turrets were raised on a central armoured breastwork 229mm at the ends and 203mm amidships. The breastwork served to keep the turrets, hatchways, vents and funnels, comparatively clear of the water, making the ships more practical in a seaway the the low freeboard contemporary ships of the US Navy. Turrets had 254mm faces and 229mm walls.
Modernizations
(1885-1889), all: breastwork was extended to the sides with light plating to improve stability and seakeeping, displacement was 3560t; + 4 x 1 - 47/40 3pdr Hotchkiss Mk I, 5 MGs
Naval service
No significant events.

Many thanks to Wolfgang Stöhr for additional information on this page.