Photo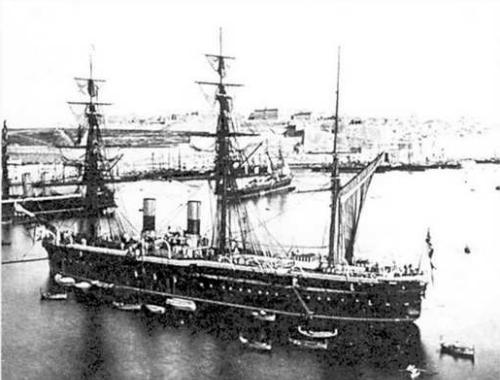 Alexandra before reconstruction
Ships
| Name | No | Yard No | Builder | Laid down | Launched | Comp | Fate |
| --- | --- | --- | --- | --- | --- | --- | --- |
| Alexandra (ex-Superb) |   |   | Chatham DYd | 5.3.1873 | 7.4.1875 | 31.1.1877 | harbour vessel 1903 |
Technical data
| | |
| --- | --- |
| Displacement normal, t | 9492 |
| Displacement full, t |   |
| Length, m | 99.1 pp 104.9 oa |
| Breadth, m | 19.5 |
| Draught, m | 8.00 |
| No of shafts | 2 |
| Machinery | sails + 2 3-cyl IVC, 12 cylindrical boilers |
| Power, h. p. | 8498 |
| Max speed, kts | 15.1 |
| Fuel, t | coal 680 |
| Endurance, nm(kts) | 2700(10) |
| Armour, mm | iron; belt: 305 - 152 with 305 - 254mm wood backing, main battery: 305, upper battery: 203, bulkheads: 203 - 127, deck: 38 - 25 |
| Armament | 2 x 1 - 279/12 MLR Mk II, 10 x 1 - 254/15 MLR Mk I/II, 6 x 1 - 100/21 20pdr 16cwt BL (saluting), 4 - 356 TC |
| Complement | 674 |
Graphics
Project history
Iproved Sultan with heavier armour and armament and 1.5m greater beam, one of the most successful central battery ironclads although she was virtually obsolete at the time of completion. The lower battery was divided into two sections: main section contained 3 254mm guns on each broadside, fwd section had 254mm guns in fwd corners. Upper battery contained 2 279mm guns in the fwd corners and 2 254mm guns in the aft corners. The ship's side fwd of both batteries and abaft the upper battery was set back to give clear ahead and astern fire to the corner ports, but this resulted in possible blast damage to the structure, a narrow, cramped upper deck and very wet ship in heavy water.

Machinery placed in 4 boiler rooms and 2 engine rooms. Alexandra became the first RN ship fitted with vertical compound engines. The boiler pressure of 4.2kgf/cm2 was doubled in comparison with rectangular boilers. When completed she was the fastest steaming battleship afloat. Alexandra was fitted with auxiliary 600hp engine to turn the screws under sail. Alexandra was barque-rigged with 2510m2 sail area. She was handy but slow sailer and was a good seaboat, apart from wetness caused by the recessing of the sides.
Ship protection
Waterline belt was 3.2m deep and 305mm thick amidships, reducing to 254mm fwd and 152mm aft. The lower battery had 305mm sides and 203mm bulkheads. Upper battery had 203mm sides and 152mm bulkheads. The magazine was protected from raking fire from aft by 127mm bulkhead between the lower and platform decks. Ship had middle line longitudinal bulkhead to within 12m of stem and stern, double bottom and wings.
Modernizations
1884: - 6 x 1 - 100/21; + 6 x 1 - 102/27 BL Mk II/III/IV/V/VI

(1889-1891): the rig was cut down to the lower masts, fighting tops were fitted on the fore and mizzen masts, ship was re-boilered, superstructure was enlarged, her ventilation improved; CT with 305mm sides was added; - 2 x 1 - 279/12, 2 x 1 - 254/15; + 4 x 1 - 234/32 BL Mk VI, 6 x 1 - 57/40 Hotchkiss QF Mk I, 12 x 1 - 47/40 Hotchkiss QF Mk I, 4 - 406 TC

1890s: - 4 - 406 TC; + 4 - 356 TC

1897: - 6 x 1 - 102/27; + 6 x 1 - 120/40 QF Mk I/II/III/IV

1898: funnels were raised
Naval service
Alexandra served as flagship for 23 years despite her obsolescence. Her sea-going service ended in 1889, and in 1903 she was relegated to harbour service. Ultimately she was sold for BU in October 1908.