Photo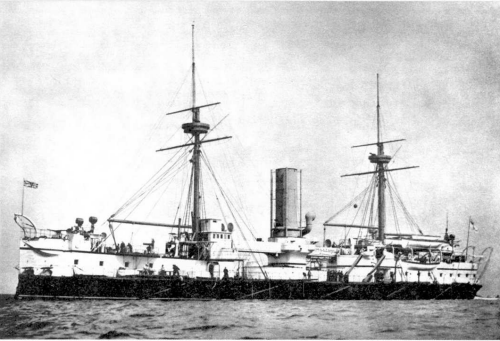 Ajax
Ships
| Name | Yard No | Builder | Laid down | Launched | Comp | Fate |
| --- | --- | --- | --- | --- | --- | --- |
| Agamemnon |   | Chatham DYd | 9.5.1876 | 17.9.1879 | 29.3.1883 | sold for BU 1.1903 |
| Ajax | 199 | Pembroke DYd | 21.3.1876 | 10.3.1880 | 30.3.1883 | sold for BU 3.1904 |
Technical data
| | |
| --- | --- |
| Displacement normal, t | 8510 |
| Displacement full, t |   |
| Length, m | 85.3 pp 91.7 oa |
| Breadth, m | 20.1 |
| Draught, m | 7.16 |
| No of shafts | 2 |
| Machinery | sails + 2 3-cyl IVC, 10 tubular boilers |
| Power, h. p. | 6000 |
| Max speed, kts | 13 |
| Fuel, t | coal 960 |
| Endurance, nm(kts) | 4100(10) |
| Armour, mm | iron; citadel: 457 - 381 sides with 457mm wood backing, 419 - 343 bulkheads with 457mm wood backing, turrets: 406 - 356 (compound), decks: 76, CT: 305 |
| Armament | 2 x 2 - 318/16 MLR Mk I, 2 x 1 - 152/26 BL Mk II, 6 x 1 - 57/43 6pdr Nordenfelt Mk I, 2 - 356 TC |
| Complement | 345 |
Graphics
Project history
Smaller variant of Inflexible with a shallow draught for possible employment against Russia in the Baltic and Black Seas, these were unsatisfactory ships, whose construction was based on economic rather than military considerations. Unlike Inflexible, the central citadel was of insufficient buoyancy to protect the ships' stability in the event of extensive damage to the unarmoured ends.

Agamemnon and Ajax were the last British capital ships armed muzzle loading guns and the first with secondary BL 152mm guns, placed at ship ends. Also they had 6pdr Nordenfelt guns and MGs for use against torpedo boats. Unlike Inflexible, these ships were designed without a sailing rig. They required a large amount of helm to stay on course and were erratic and dangerous, particularly at high speeds. They were bad seaboats, being very lively, uncomfortable and wet in heavy weather.
Ship protection
The citadel was31.7m long with sandwich protection on the sides and bulkheads, the sides being 457mm at the waterline and 381mm above and below, giving a total thickness of armour and backing of 940mm. The deck over citadel and lower deck fore and aft of it were 76mm. Sandwich protection was provided on the turrets, with 406mm faces and 356mm walls, the outer thickness being of compound armour.
Modernizations
1880s, both: + 8 x 1 - 47/40 3pdr Hotchkiss Mk I
Naval service
No significant events.

Thanks to Wolfgang Stöhr for additional information on this page.