Ships
| Name | No | Yard No | Builder | Laid down | Launched | Comp | Fate |
| --- | --- | --- | --- | --- | --- | --- | --- |
| 加賀 [Kaga] |   |   | Kawasaki, Kobe | 19.7.1920 | 17.11.1921 | --- | completed as carrier 1928 |
| 土佐 [Tosa] |   |   | Mitsubishi, Nagasaki | 16.2.1920 | 18.12.1921 | --- | incomplete, sunk as target 9.2.1925 |
Technical data
| | |
| --- | --- |
| Displacement normal, t | 39900 |
| Displacement full, t | 44200 |
| Length, m | 231.7 wl 234.1 oa |
| Breadth, m | 30.5 |
| Draught, m | 9.40 |
| No of shafts | 4 |
| Machinery | 4 sets Curtis geared steam turbines, 12 Kampon boilers |
| Power, h. p. | 91000 |
| Max speed, kts | 26.5 |
| Fuel, t | coal 1700 + oil 3600 |
| Endurance, nm(kts) | 5500(16) |
| Armour, mm | belt: 280 + 50, bulkheads: 280 - 230, deck: 100, barbettes: 300, turrets: 300 - 230, casemates: 152 - 19, CT: 356 |
| Armament | 5 x 2 - 410/45 3-shiki, 20 x 1 - 140/50 3-shiki, 4 x 1 - 76/40 3-shiki, 8 - 610 TT (beam) |
| Complement | 1400 |
Standard scale images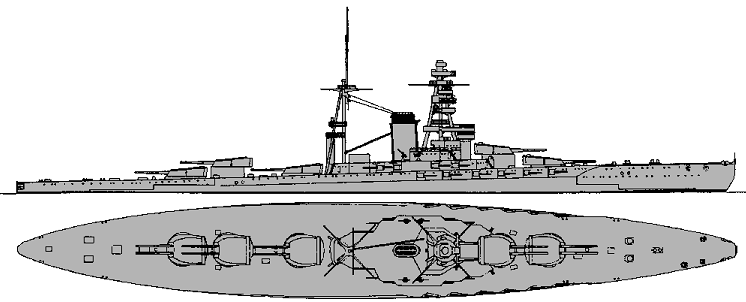 Kaga
Project history
Design A-127, designed by Y Hiraga, essentially an enlarged Nagato with a flush deck for maximum girder strength. Note the adoption of 610mm torpedo tubes, all above water; the design initially called for 4 submerged and 4 above water tubes, but the former were dropped due to problems of firing at high speed. The Japanese also considered turbo-electric drive after American announcements of success with the plant in New Mexico, estimating 70,000shp = 25.25kts, 2500nm endurance at full speed, 7800nm at 14kts. It was rejected, but the turbo-electric oiler Kamoi was ordered in 1921 from the US to test it. Hiraga adopted sloping belt armour to resist 406mm shells between 12,000 and 20,000 metres. The lower armour deck, which had been the main protective deck in earlier ships, was virtually eliminated in this class, in favour of a heavy flat deck covering the belt, as in contemporary US battleships. Below these was a 38mm splinter deck. The former heavy lower armour deck was reduced to an almost vertical inward-sloping continuation of the 76mm torpedo bulkhead, connected to the lower edge of the belt proper by a short upward-sloping deck. The upper end of this torpedo-bulkhead/splinter bulkhead was a short vertical 28mm splinter bulkhead above the splinter deck, which was itself above the waterline. This system was repeated in slightly modified form in the Amagi and Kii classes.

Both ships were cancelled as a result of the Washington Treaty (building stopped on both 5 February 1922), Tosa (stricken 1 April 1924) being expended as a target in the Bungo Straights. Accounts of tests against her show shells striking below the waterline; the Japanese interest in internal armour may correspond to this threat. She was also tested against mines and torpedoes. Kaga was to have been scrapped, but was completed as a carrier after Amagi was damaged in the Tokyo earthquake of 1923. It was originally planned complete Kaga (as battleship) 25.12.1922 and Tosa in March 1923. It was planned to replace the 76mm AA with a new 120mm/45.
Ship protection
15°inclined main belt had 280mm thickness between barbettes, tapering to 76mm at lower edge. Upper part of anti-torpedo longitudinal bulkhead extended up to main deck and served as 30mm splinter bulkhead. Main belt was closed by 330-254mm fore and 254mm aft bulkheads abreast end barbettes. Hull outside end barbettes was protected by 229mm belt tapered to 76mm at lower edge. Upper 229mm belt extended from main belt to upper deck between end barbettes. It was closed by 229mm angled bulkheads. Lower casemate had 152mm armor. Upper casemate had only 25-19mm protection. Flat main 160-102mm deck connected with upper edge of main belt. Lower (splinter) deck had 38mm thickness in flat part and connected with lower edge of main belt by 102-51mm slopes. Deck over lower casemate was 38-25mm. Turrets had 356mm faces, 203mm sides and rears and 190mm crowns. CT had 356mm sides and 76mm roof. Underwater protection was 6.5m deep and content 76mm longitudinal bulkhead.