Photo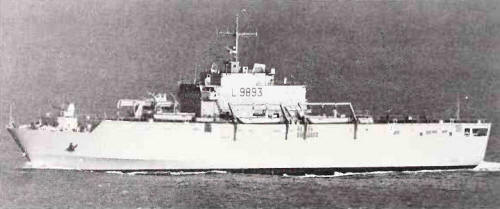 San Marco 1988
Ships
| Name | No | Yard No | Builder | Laid down | Launched | Comp | Fate |
| --- | --- | --- | --- | --- | --- | --- | --- |
| San Giorgio | L9892 |   | Fincantieri, Riva Trigoso | 26.6.1985 | 25.2.1987 | 13.2.1988 | in service (2019) |
| San Marco | L9893 |   | Fincantieri, Riva Trigoso | 28.6.1986 | 25.10.1987 | 14.5.1988 | in service (2019) |
Technical data
| | |
| --- | --- |
| Displacement standard, t | 6687 |
| Displacement full, t | 7665 |
| Length, m | 118.0 pp 133.3 oa |
| Breadth, m | 20.5 |
| Draught, m | 5.25 |
| No of shafts | 2 |
| Machinery | 2 GMT A420-12 diesels |
| Power, h. p. | 16800 |
| Max speed, kts | 21 |
| Fuel, t | diesel oil |
| Endurance, nm(kts) | 7500(17) |
| Armament | 1 x 1 - 76/62 OTO-Melara MMI, 2 x 1 - 20/70 Mk 4, 2 x 1 - 12.7/90, 3 - 5 helicopters (3 CH-47 Chinook or 3 SH-3D Sea King or 5 AB-212) |
| Military load | 3 LCM, 4 LCVP, 36 APC, 345 troops |
| Electronic equipment | SPS-702, SPN-748, RTN-10X radars, 2x SCLAR decoy RL |
| Complement | 170 |
Standard scale images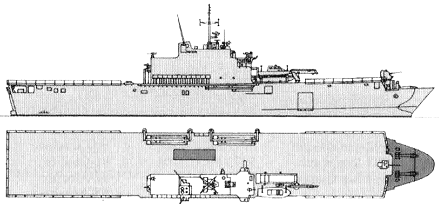 San Giorgio 1990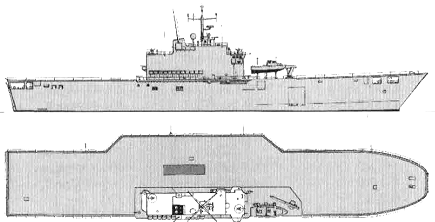 San Giorgio 2010
Graphics
Project history
San Giorgio was ordered in March 1984, San Marco was financed by Ministry of Civil Protection for disaster relief, and has more extensive medical facilities; she served as a hospital ship during the 1991 Gulf conflict. Vehicles and troops can be landed via bow doors during a beaching, 20.5x7.0m stern docking well is equipped with a 40t traveling bridge crane and can accommodate 3 LCM; 4 LCVP are carried on the deck. Helicopters are stowed on deck, 100x14.0x5.0m hangar below can hold 30 or more APCs. Flight deck is served by a 13.5x3.5m 30t elevator and 16t crane. There is stowage for 99m³ of refrigerated cargo and 300m³ of dry stores.
Modernizations
2003, San Giorgio; 2004, San Marco: flight deck was extended to the bow, 5m sponson was added to port (breadth by the deck 25.5m), providing spots fore and aft for EH-101 helicopters and two spots on the sponson for smaller helicopters, bow door was sealed; - 2 LCVP, 2 retained LCVPs resited below the sponson; - 1 x 1 - 76/62, 2 x 1 - 20/70; + 2 x 1 Stinger SAM (some FIM-92), 2 x 1 - 25/87 KBA25/80, SLQ-25 Nixie torpedo decoy
Naval service
No significant events.