NAVYPEDIA Support the project with paypal
Photo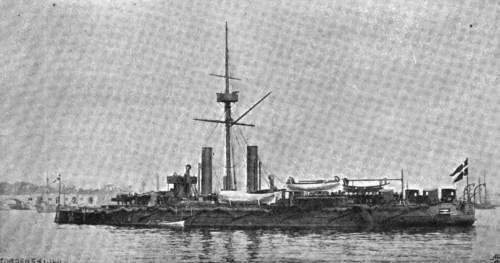 Tordenskjold
Ships
| Name | No | Yard No | Builder | Laid down | Launched | Comp | Fate |
| --- | --- | --- | --- | --- | --- | --- | --- |
| Tordenskjold |   |   | Orlogsværftets, København | 5.6.1879 | 30.9.1880 | 29.9.1882 | stricken 5.1908 |
Technical data
| | |
| --- | --- |
| Displacement normal, t | 2462 |
| Displacement full, t |   |
| Length, m | 67.8 |
| Breadth, m | 13.2 |
| Draught, m | 4.80 max |
| No of shafts | 2 |
| Machinery | 2 VC, 8 cylindrical boilers |
| Power, h. p. | 2600 |
| Max speed, kts | 12.7 |
| Fuel, t | coal 170 |
| Endurance, nm(kts) |   |
| Armour, mm | compound; barbette: 203, deck: 38 with 97mm slopes |
| Armament | 1 x 1 - 355/22 RK L/25 C/80, 4 x 1 - 120/22 RK L/25 C/79, 1 x 1 - 84/13 M.1872, 4 x 5 - 37/17 M.1875, 1 - 381 TT (bow), 3 - 356 TT (2 beam, 1 aft) |
| Complement | 206 |
Standard scale images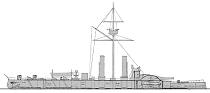 Tordenskjold 1882
Graphics
Project history
A ship of unusual type with the 355mm barbette forward and the 120mm guns in shields aft.
Ship protection
Sides were unprotected, hull was protected by 38mm deck with 97mm slopes. 355mm gun was protected by 203mm barbette.
Modernizations
1883: - 1 x 1 - 84/13; + 4 x 5 - 37/17 M.1875
Naval service
No significant events.
© 2007-2023 - navypedia.org