Photo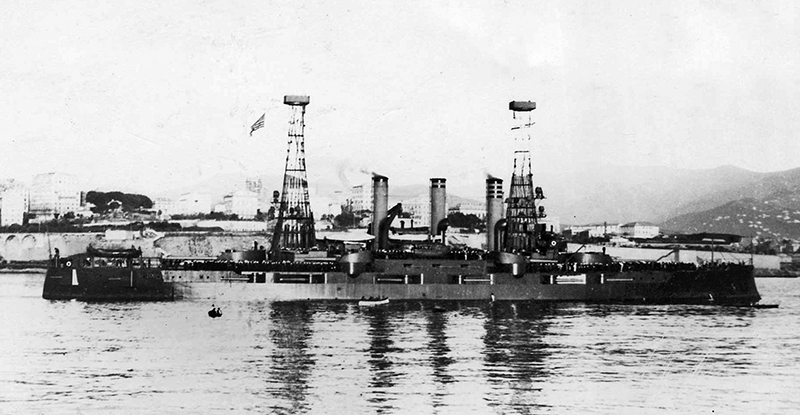 Connecticut at Genoa 1918
Ships
| No | Name | Yard No | Builder | Laid down | Launched | Comm | Fate |
| --- | --- | --- | --- | --- | --- | --- | --- |
| BB18 | Connecticut |   | New York N Yd, Brooklyn | 10.3.1903 | 29.9.1904 | 29.9.1906 | stricken 11.1923 |
| BB19 | Louisiana | 45 | Newport News | 7.2.1903 | 27.8.1904 | 2.6.1906 | stricken 11.1923 |
Technical data
Displacement normal, t

16000

Displacement full, t

17666

Length, m

139.1

Breadth, m

23.4

Draught, m

7.47

No of shafts

2

Machinery

2 VTE, 12 Babcock & Wilcox boilers

Power, h. p.

16500

Max speed, kts

18

Fuel, t

BB18: coal 2249

BB19: coal 2376

Endurance, nm(kts)
6620(10)
Armour, mm

Krupp and Harvey steel - belt: 279 - 152 (178 - 102 at ship ends), bulkheads: 152, deck: 76 - 38, barbettes: 254 - 152, main gun turrets: 279 - 203, secondary gun turrets: 165 - 51, casemates: 178 - 95, CT: 229

Armament

BB18: 2 x 2 - 305/45 Mk V, 4 x 2 - 203/45 Mk VI, 12 x 1 - 178/44 Mk II, 20 x 1 - 76/50 Mk III/V/VI, 12 x 1 - 47/40 Hotchkiss Mk I / Driggs-Schroeder Mk I, 4 x 1 - 37/40 Hotchkiss heavy Mk I/II/III / Driggs-Schroeder heavy Mk I, 4 - 533 TT (beam)

BB19: 2 x 2 - 305/45 Mk V, 4 x 2 - 203/45 Mk VI, 12 x 1 - 178/44 Mk II, 20 x 1 - 76/50 Mk III/V/VI, 12 x 1 - 47/40 Hotchkiss Mk I / Driggs-Schroeder Mk I, 2 x 1 - 37/40 Hotchkiss heavy Mk I/II/III / Driggs-Schroeder heavy Mk I, 4 - 533 TT (beam)

Complement

827 - 896
Standard scale images

Connecticut 1908
Graphics
Project history
Authorized under the Act of 1.7.1902. An improvement on previous designs, larger and good sea boats, which many of the preceding ships were not. The stability range was 68° and freeboard 6.2m forward at lwl. The weak point was the inclusion of both 203mm and 178mm guns, hits and splashes from which would be indistinguishable. The gun axis height for the latter was 4.6m above lwl compared to 8.1m for the 203mm. Both 305mm and 203mm turrets were electrically powered and the total output of the ships' dynamos was 800kW, the highest yet in any US warship. Distinguished from earlier USN battleships by very good seaworthiness.
Ship protection
Main belt had 2.82m height (1.3m over and 1.52m under waterline). 58.5m long amidships part of the belt was 279mm thick at 1.6m upper part tapering to 229mm at lower edge. Next 14.9m fore and aft parts of belt were 229mm at upper edge tapering to 178mm at lower edge. Ship ends were protected by 2.43m in height (0.91m over and 1.52m under waterline) 178-127mm, later 127mm and finally 102mm armour. Belt was connected with main gun barbettes by 152mm bulkheads. Upper belt between main barbettes had 152mm thickness. 38mm armoured deck over citadel had 76mm slopes and connected with lower edge of main belt. It was 76mm in flat part and had 76mm slopes at ship ends. Main gun turrets had 279mm faces, 229mm sides and rears and 64mm crowns. Secondary gun turrets had 165mm faces, 152mm sides and rears and 51mm crowns. 178mm guns were protected by 178mm casemate with 63-38mm transverse splinter bulkheads between guns. CT had 229mm sides and 51mm roof.
Modernizations
1909 - 1910, both: - 12 x 1 - 47/40; cage masts were installed.

1919, both: - 12 x1 - 178/44 (may be temporarily), 8 x 1 - 76/50; + 2 x 1 - 76/52 Mk X
Naval service
Both ships were stricken under the terms of Washington Treaty.