Photo
Antrim as built
Ships
| Name | No | Yard No | Builder | Laid down | Launched | Comp | Fate |
| --- | --- | --- | --- | --- | --- | --- | --- |
| Hampshire | 50 | 734 | Armstrong, Elswick | 1.9.1902 | 24.9.1903 | 15.7.1905 | sunk 5.6.1916 |
| Carnarvon | 30, P3A, P80 | 480 | Beardmore, Dalmuir | 1.10.1902 | 7.10.1903 | 29.5.1905 | TS 1919, sold 11.1921 |
| Antrim | 09, 07, N58 | 363 | John Brown, Clydebank | 27.8.1902 | 8.10.1903 | 23.6.1905 | trials ship 3.1920, TS 1922, sold 12.1922 |
| Roxburgh | 86, 3A, N34 | 317 | London & Glasgow, Glasgow | 13.6.1902 | 19.1.1904 | 5.9.1905 | trials ship 6.1919, sold 11.1921 |
| Argyll | 80 | 380 | Scott, Greenock | 1.9.1902 | 3.3.1904 | 12.1905 | wrecked 28.10.1915 |
| Devonshire | 38, 53, N19 |   | Chatham DYd | 25.3.1902 | 30.4.1904 | 24.8.1905 | sold 5.1921 |
Technical data
Displacement normal, t

10850

Displacement full, t

 

Length, m

137.2 pp 144.3 oa

Breadth, m

20.9

Draught, m

7.32

No of shafts

2

Machinery

Hampshire, Antrim: 2 4-cyl VTE, 17 Yarrow and 6 cylindrical boilers

Carnarvon: 2 4-cyl VTE, 17 Niclausse and 6 cylindrical boilers

Roxburgh: 2 4-cyl VTE, 17 Durr and 6 cylindrical boilers

Argyll: 2 4-cyl VTE, 16 Babcock and 6 cylindrical boilers

Devonshire: 2 4-cyl VTE, 15 Niclausse and 6 cylindrical boilers

Power, h. p.

21000

Max speed, kts

22

Fuel, t

coal 1950

Endurance, nm(kts)

4900(13)

Armour, mm
belt: 152 - 51, bulkhead: 127, decks: 51 - 19, turrets: 127, barbettes: 152, casemates: 152 - 51, ammunition tubes: 76, CT: 305
Armament

4 x 1 - 190/45 BL Mk I, 6 x 1 - 152/45 BL Mk VII, 2 x 1 - 76/40 12pdr 12cwt QF Mk I, 18 x 1 - 47/50 3pdr Vickers Mk I, 2 - 450 TT (sub, beam)

Complement

655
Standard scale images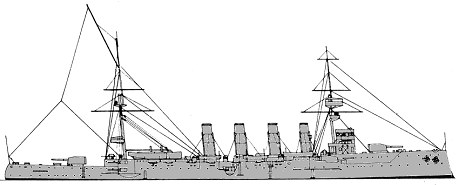 Hampshire 1906
Graphics
Project history
Provided under the 1901/02 Programme, these ships were an attempt to improve on the Monomouth design without an excessive increase in size. Both armour and armament were improved but the increase in displacement was restricted to 1000t by retaining the machinery power of the Monmouth and accepting a 0.7kt loss in speed. As designed they carried the same armament as the previous class except that single 190mm turrets were mounted in place of the twin 152mm, but while under construction two more 190mm turrets, mounted abreast the foremast on the upper deck, were substituted for the four forward 152mm and their double-storey casemates. The class was contemporary with the King Edward VII class battleships and like them carried mixed boiler arrangements in order to give the many watertube boiler designs then available a practical test. These boilers were distributed between the three forward boiler rooms while the after boiler room in all six vessels was fitted with 6 cylindrical boilers. On trials all exceeded their designed power and all except Argyll exceeded 23kts but in the long term they did not prove to be good steamers.
Ship protection
The main 152mm belt was 75.0m long by 3.2m deep amidships and was continued to the stem by 51mm thick side armour. The protective deck was 64mm thick abaft the armoured bulkhead and 19mm for the length of the belt, while the main deck was 32mm for the length of the belt.
Modernizations
None.
Naval service
Antrim was paid off to reserve in 1919 but refitted as W/T and Asdic trials ship, recommissioning in March 1920 (she carried out the first sea trials of Asdic). She was converted to cadets` TS in 1922. Argyll wrecked on the Bell Rock off Dundee 28.10.1915. Carnarvon served as cadets` TS from 1919 until she was put on sale list in May 1920. Hampshire struck a mine off the Shetlands 5.6.1916 and foundered with the lost of all but 12 men. Roxburgh was torpedoed by German submarine U39 20.6.1915 and was under repair till April 1916. In 1919 she was converted to W/T trials ship and served in this role till she was paid off in February 1920.

Many thanks to Wolfgang Stöhr for additional information on this page.