Photo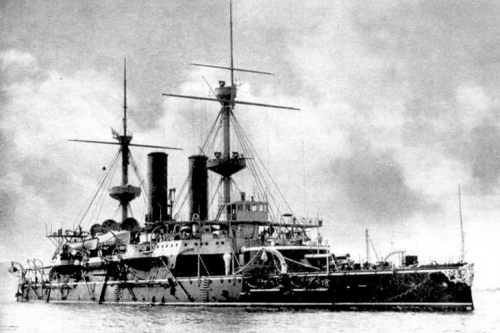 Hood 1893
Ships
| Name | No | Yard No | Builder | Laid down | Launched | Comp | Fate |
| --- | --- | --- | --- | --- | --- | --- | --- |
| Hood |   |   | Chatham DYd | 12.8.1889 | 30.7.1891 | 5.1893 | target 1911 |
Technical data
Displacement normal, t

14150

Displacement full, t
15590
Length, m

115.8 pp 125.0 oa

Breadth, m

22.9

Draught, m

8.33

No of shafts

2

Machinery

2 3-cyl VTE, 8 cylindrical boilers

Power, h. p.

natural draught: 9000

forced draught: 11000

Max speed, kts

natural draught: 15.7

forced draught: 16.7

Fuel, t

coal 1450

Endurance, nm(kts)

7900(10)

Armour, mm

compound; belt: 457 - 356, bulkheads: 406 - 356, upper belt: 102, turrets: 432 - 279, casemates: 152, decks: 76 - 64, CT: 356

Armament

2 x 2 - 343/30 BL Mk III/IV, 10 x 1 - 152/40 QF Mk I/II, 10 x 1 - 57/40 6pdr Hotchkiss Mk I, 12 x 1 - 47/40 3pdr Hotchkiss Mk I, 5 - 450 TT (1 bow, 4 beam)

Complement

690
Graphics
Project history
The eighth battleship of the Naval Defence Act, built at the instigation of Admiral Hood as a turret ship. Generally following the design of the Royal Sovereign class, with identical compartmentation, armour and armament distribution, Hood however lacked these ships` high freeboard, this being rendered impracticable by the topweight involved in the adoption of turrets. Hood provided a useful comparison with her half-sisters and vindicated the adoption of the barbette/high freeboard design, as she was a poor seaboat unable to maintain high speeds in a seaway.
Ship protection
The belt was 76.9m long by 2.6m deep, 1.5m being below the waterline, and was 457mm thick amidships reducing to 406mm and 356mm forward and aft. It was closed by 406mm fwd and 356mm aft bulkheads and covered by a 76mm middle deck, the lower deck fwd and aft of the belt was 64mm, and the upper belt between main and middle decks was of 102mm nickel steel armour, with 76mm nickel steel bulkheads at the ends. The turrets had 432mm faces and 279mm sides. The arcas behind the main and upper belts were employed as coal bunkers for additional protection.
Modernizations
1903: - 4 - 450 TT (beam)

1910: - 10 x 1 - 152/40
Naval service
Hood was paid off to reserve in September 1904 and became a receiving ship at Queenstown in July 1910, partly unarmed. She was removed from Effective List in 1911 and employed as target from 1911 to 1914 for underwater protection experiments, and was the first ship to be fitted with bulges. She was put on Sale List in August 1914 and 4.11.1914 scuttled to fill a gap in the defences of Portland harbour.