Photo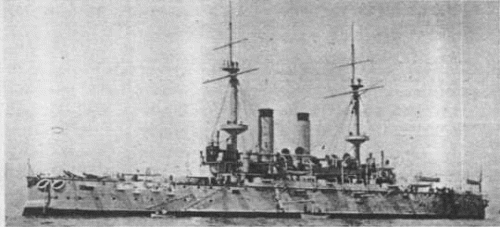 Fuji
Ships
| Name | No | Yard No | Builder | Laid down | Launched | Comp | Fate |
| --- | --- | --- | --- | --- | --- | --- | --- |
| 富士 [Fuji] |   |   | Thames Iron Wks, Blackwall, UK | 1.8.1894 | 31.3.1896 | 17.8.1897 | transport 9.1922 |
| 八島 [Yashima] |   | 625 | Armstrong, Elswick, UK | 28.12.1894 | 28.2.1896 | 9.9.1897 | sunk 15.5.1904 |
Technical data
Displacement normal, t

Fuji: 12533

Yashima: 12320

Displacement full, t
 
Length, m

114.0 pp 118.8 wl 125.5 oa

Breadth, m

Fuji: 22.2

Yashima: 22.4

Draught, m

Fuji: 8.07

Yashima: 8.00

No of shafts

2

Machinery

Fuji: 2 VTE, 10 cylindrical boilers

Yashima: 2 VTE, 14 cylindrical boilers

Power, h. p.

14000

Max speed, kts

18

Fuel, t

coal 1200

Endurance, nm(kts)
4000(10)
Armour, mm

Harvey nickel steel - belt: 457 - 356, bulkheads: 356 - 305, upper belt: 102, casemates: 152 - 51, deck: 63, barbettes: 356 - 229, turrets: 152 - 102, CT: 356

Armament

2 x 2 - 305/40 Armstrong G, 10 x 1 - 152/40 Armstrong Z, 20 x 1 - 47/40 3pdr Hotchkiss Mk I, 4 x 1 - 47/30 21/2pdr Hotchkiss Mk I, 5 - 450 TT (1 bow, 4 beam)

Complement

741
Standard scale images

Fuji 1897
Graphics
Project history
The 1893 Programme, which planned to build up the strength of the Japanese Fleet as a counter to the Chinese Fleet, which had two modern German-built capital ships. The two Japanese ships were built to a design of G C Macrow and were an improved type of British Royal Sovereign, but with more powerful guns of smaller calibre. Being lighter weapons the weight saved was used to increase the armour on the turrets. Only four of the secondary guns were in casemates amidships, the remaining guns being in shields on the upper deck. Yashima had a much smaller turning circle than the Fuji on account of her builders having cut away the keel aft towards the rudder. This modification turned out to be a qualified success, however, the smaller turning circle straining the hull.
Ship protection
Main belt had 69m length and 2.4m height, its thickness was maximally 457mm, decreasing to 356mm near barbettes. It connected with main gun barbettes by 356 fore and 305mm aft bulkheads. Upper 46m belt was 102mm thick and 2.3m high. Casemates had 152mm face and 51mm rear armor. Barbettes had 356mm thickness over and 229mm under main deck. Turrets had 152mm faces, 102mm sides and rears and 51mm roofs. CT had 356mm sides and 76mm roof. Fore torpedo room had 152mm protection. 63mm armoured deck over citadel was flat and connected with upper edge of main belt. It had turtleback form outside barbettes and had 63mm thickness.
Modernizations
1900-1901, both: - 16 x 1 - 47/40; + 16 x 1 - 76/40 Armstrong N

1910, Fuji: boilers were replaced by 10 Miyabara
Naval service
Yashima was badly damaged 15.5.1904 on Russian mine at Port Arthur (minefield laid by minelayer Amur) and foundered same day under tow off Encounter Rock. In 1910 Fuji was reclassified as 1st class coast defence ship, actually served as TS. In 1922 she was disarmed and used as barrack ship in Yokosuka, sold for BU in 1948.





Many thanks to Wolfgang Stöhr for additional information on this page.