Photo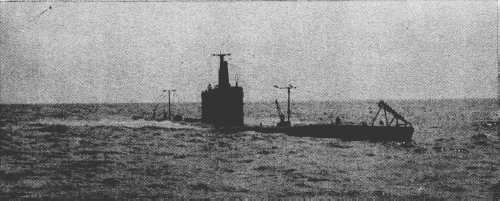 Atropo
Ships
| Name | No | Yard No | Builder | Laid down | Launched | Comp | Fate |
| --- | --- | --- | --- | --- | --- | --- | --- |
| Atropo |   |   | Tosi, Taranto | 7.1937 | 20.11.1938 | 2.1939 | discarded 3.1947 |
| Foca |   |   | Tosi, Taranto | 1.1936 | 26.6.1937 | 11.1937 | lost presumably 15.10.1940 |
| Zoea |   |   | Tosi, Taranto | 2.1936 | 5.12.1937 | 2.1938 | discarded 3.1947 |
Technical data
| | |
| --- | --- |
| Displacement standard, t | 1200 - 1215 |
| Displacement normal, t | 1305 / 1625 |
| Length, m | 82.9 |
| Breadth, m | 7.17 |
| Draught, m | 5.20 |
| No of shafts | 2 |
| Machinery | 2 Fiat diesels / 2 Ansaldo electric motors |
| Power, h. p. | 2880 / 1250 |
| Max speed, kts | 16 / 8 |
| Fuel, t | diesel oil 63 (norm.) |
| Endurance, nm(kts) | 8500(8) / 106(4) |
| Armament | 1 x 1 - 100/43 OTO 1927, 2 x 2 - 13.2/76, 6 - 533 TT (bow, 8), 36 mines |
| Electronic equipment | hydrophone |
| Complement | 60 |
| Diving depth operational, m | 100 |
Standard scale images

Foca 1940
Graphics
Project history
Design was developed by builder on the basis of earlier Archimede and Pietro Micca classes. Partially double-hulled. This class minelayers are remarkable that on them two essentially various systems of minelaying, horizontal and vertical, were applied at once. In two stern horizontal tubes 8 mines were stowed and 20 more were placed in vertical trunks, as on Pietro Micca. Massive CT, carrying in the aft part 102mm/43 gun, became other prominent feature of the class, theoretically capable thanks to the high position to keep fire in fresh weather.

In 1941 on Atropo and Zoea main gun was moved on a deck fwd from CT.
Modernizations
1941, Atropo, Zoea: - 1 x 1 - 100/43; + 1 x 1 - 100/47 OTO 1938
Naval service
Foca was lost in November, 1940 in East Mediterranean. Probably, she was mined near Haifa 15.10.1940. Zoea was sunk as a result of accident in summer 1942 at Taranto, but was quickly raised and re-commissioned.